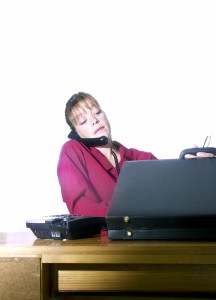 Today I saw a post that made me think of this issue. An excuse I often see that prevents people from becoming entrepreneurs:
"I am not good at selling stuff!"
Want to know a secret? Neither am I!
Sure, I know branding, graphic design, publishing, and marketing techniques, but I am not a natural salesperson.
And I'm glad.
Why?
Because the world is full of slick sales people! The world is full of advertisements and hokey messages and unpleasant, high pressure telemarketing phone calls.
Doesn't that just make you go, "ick?"
Think about that last sales call you got that drove you crazy. I can definitely remember a few times professional sales people tried to cram their product or service down my throat. It was not pleasant. I did not buy from them. I ran from them.
But when you offer a product or service based on your passion in life, your calling, your unique skill set, and you make yourself available to serve a target market that has a desperate need for what you have, you don't have to sell!
Yes, I know that sounds impossible. How could that be true?
It's all about your mindset. It's about deciding to show up to serve, to help fulfill a need. After all, isn't that what free market economies is all about? You find a void, create or offer a product or service that fulfills that need. It's called supply and demand.
So how can you change your thinking? Look at your sales as conversations. You're just trying to find a fit for you and your potential customer. If it isn't a fit, that's great. If it is fit, that's wonderful! It's about dialoguing, and it's about listening more than anything. And the more nos you get, the better! You are just making room for more yesses!
Be there for those who are experiencing pain. Offer them a solution. It's that simple. Then ask boldly. "Is this something you might want to hear more about?" "If I could help you with that (problem), would you like to hear more?" "Is this something you would like to get started with?"
Let me give you a real life example. My husband. He is not a sales person. Far from it! He is an architect. And furthermore, he is an engineer. He doesn't like sales. He even thought of getting a job at one point because the idea of doing sales was overwhelming to him.
Then I mentioned that if he was to get a job, he has to market himself. He has to perform in a sales meeting. That's called an interview. He has to negotiate for his salary. And if he gets the job, he still has to do sales and marketing. He has to continually convince his employer to keep him as an employee!
He saw my point, and now he's actively engaged in sales and marketing (okay, with my help, but you get the picture). Last night, he came back from a networking meeting excited. He had connected with the speaker. He resonated. That's the thing. When you resonate with others, it isn't about selling. It's about offering a valuable product or service that people need, want, and desire.
This is the dirty little secret: we ALL have to learn how to do sales and marketing! Whether you are looking for a job or become an entrepreneur.
But when you build a brand, you attract customers to you rather than trying to force a prospect to buy from you.
Doesn't that sound promising? If you'd like to know more timeless principles of business, take my free mini course, 5 Secrets to a Wildly Successful Home Business! Click here now! The sooner you get started on this valuable knowledge, the sooner you will get that successful business you've been dreaming of!
ID: 279497