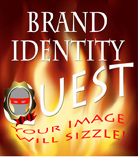 This is an announcement I've been waiting to make for MONTHS!
After much hard work, I am finally able to launch my new online course, Brand Identity Quest.
And to celebrate, I am holding a special launch party on Monday, June 13 at 1 pm EST.
What is involved in this launch party?
First of all, I will be offering a free teaching on branding in marketing. This teaching, entitled "3 Ways to Make Your Brand Sizzle," will help you discover practical ways to make your brand stand out above the crowd.
Then, I will be announcing my new course and a special promotion that will never be repeated again. Plus, one listener will be selected at random to receive my course for FREE!
Sign up today by clicking here!
See you on the call!