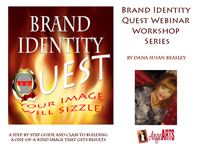 I am excited to announce that I have all systems go! I have lift off for the launch of my upcoming Brand Identity Quest Webinar Workshop Series!
Here are the details:
What: A seven week webinar program designed to help you create a sizzling future by building a sizzling brand. You will come away with a new or redesigned logo image based on your marketing objectives and Unique Selling Proposition, a business card design, and a web banner design. Live tutorials and workshop tutorials twice per week will help you create a new brand image that will get you real results. You will also get step by step lessons that will show you how to create and design your brand.
This is a no-risk opportunity! I will give you a free no obligation one-week trial. You can cancel after two webinars. What do you have to lose?
Plus, if you register by March 27, you will get my early bird discount. This is a significant price cut!
Who: Yours truly! I have been a graphic designer for over 17 years. I will share with you my graphic design secrets combined with my knowledge of Internet Marketing. I am passionate about passion-centered branding, I value excellence, and I enjoy helping fellow entrepreneurs learn how to make their brand images shine!
This course is for aspiring entrepreneurs, ministry leaders, established business owners, direct sellers, career seekers, students, artists, writers, musicians… everyone can benefit from learning about branding because it is learning basic marketing skills! This is not just a business skill, it is a LIFE skill!
Where: Online. My webinar program is user-friendly. You can also access the recordings at your leisure and includes live tutorials. You will get downloadable lessons in your email. The webinars are workshop oriented. This means you can ask for feedback on your particular logo and printing projects. Live Q&A session included also!
When: April 10 to May 24, 2012, Tuesdays and Thursdays starting at 1 pm Eastern time.
Why: So you can build a sizzling brand which will help you achieve your dreams which will help you have a dazzling future!
How: Sign up on my registration page by clicking here!
Don't delay! I have limited availability and these seats are going to go fast! Don't miss this opportunity for a dazzling future by creating a sizzling brand!