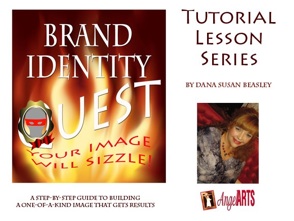 Whether you are a seasoned business owner, an aspiring entrepreneur, a ministry leader, an artist, unemployed looking to be self-employed, a mother wanting to work at home, or even a high school or college student looking for some practical real-world tools, you will benefit from this tutorial course!
As a graphic artist, I'll let you in on a little secret…
If your brand is cheap, your image will be cheapened in the eyes of your customers!
The truth is, if your business is not important to you, this will be reflected in your image. And ultimately, your sales.
You know how a plethora of companies offer cheap logos, free business cards, and expert brand marketing advice for little or no cost.
Well here's what I do that's different…
I offer a step by step easy to understand 3-month tutorial series with weekly lessons that will help you discover your own unique brand identity. This is a process designed to help you achieve maximum success in building your brand.
Why me? As a graphic designer for over 15 years, I have learned how to create brands designed around my clients' unique selling proposition (USP), not what's cheap, free, easy, pretty, cool, or convenient.
I know inside and out the tricks of the trade that gets a brand noticed, from concept to production. More importantly, I know the key questions to ask when looking for a new brand that will get my clients or project noticed and therefore increase their bottom lines. I know how to make a brand that sizzles.
What will you receive in this course?
* Weekly easy-to-understand step-by-step guided instructions and assignments through PDF documents for 3 months that will help you develop a brand that screams professionalism, improves your bottom line, and gets YOU noticed! Your image will sizzle!
* The 3 Steps to choosing a business, organizational, or artistic identity that fits YOUR passions and goals.
* The 20 questions you must ask to unmask your identity.
* Discovering the two keys to effective logo design and using these three elements in your branding so you will soar above the competition every time.
* Using typography, color, and artwork in your logo that will make your brand sizzle.
* 3 affordable ways to use your logo once you have it designed, including ideas to turn your brand into gold!
* The least expensive online printing company (and they do GREAT work!)
And much, much more!
Ready to get started? Click here now to make your brand sizzle!