On Saturdays, I am instituting a new feature. Each week I will display an item from my portfolio!
Today's item is a dance flyer I did for a local dance studio: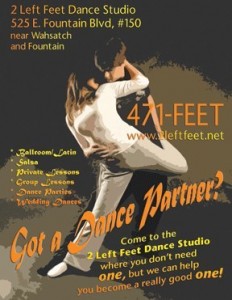 I did this in Photoshop, using a picture my client had. I used the filter feature to make it into a painting, then chose fun and flirty fonts that went with the theme. I chose an orange and yellow blend to give it pizazz.
The client was very pleased! It was a fun project to do!
Do you have a project you'd like to talk to me about? Sign up for a FREE strategy session!