What is branding?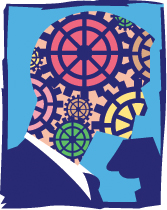 Many small business owners and entrepreneurs ask that question. And some don't even know to ask that question in the first place!
Sometimes in business, it's good to get back to the basics. And the most basic question of all is, "What is branding?"
It's amazing how many small business owners and aspiring entrepreneurs do not know the answer to this question. In fact, they don't even know to ask the question!
Yet, corporations spend thousands upon thousands on what they see as their most important asset–their branding.
Why is it important and what is branding anyway?
A brand is an identifying mark that conveys ownership of a business or organization. Primarily a logo mark, it is consistently and strategically applied across all marketing mediums. This assists a target market in identifying the brand and distinguishes it from the competition.
But a brand is much more than an image. It's the connection, an emotion, that the brand has with an intended audience.
A brand speaks of value and over time, it gains name recognition. A brand builds trust and credibility. But if the brand does not meet the expectations of consumers, the brand becomes associated with negative feelings, which can hurt the business.
A brand encompasses how a prospect is treated from the first point of contact to how repeat customers are treated. It includes the personality of the business. It speaks to the essence of who the company is, why it exists, and to whom it serves.
It speaks to products and services offered by a business. A good brand brings satisfaction and familiarity. A good brand consists of a well-constructed logo, excellent customer service, and a seamless integration of visuals that attract the customer and keeps them coming back.
Without a brand, and without that brand encapsulated into a logo, a business will not be able to distinguish their products or services from other businesses. A lack of a brand or inconsistent images will confuse prospects. It will scare them away.
A solid brand that includes a well-constructed logo is important because it communicates immediately to a prospect the value of the business and attracts customers like a magnet.
That means more leads, conversions, sales, and profits!
And that means you have a brand that sizzles and a future that dazzles!
Would you like more information on what a brand is and how to build a successful business? Register today for my free 5-day course, 5 Secrets to a Wildly Successful Home Business!