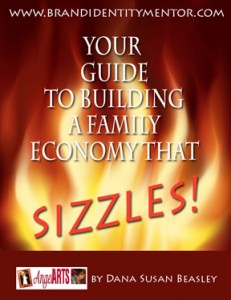 Grab Your FREE PDF Book Today!
PDF books are really easy to digest and convenient to read. You can get an amazing amount of information on these gems!
And the best part is, many PDF books are free, including my new report!
It's called "Your Guide to Building a Family Economy that SIZZLES."
There's no doubt about it. We live in very uncertain times. Families have lost 40 percent of their wealth in this economy and it doesn't look like there's an end in site.
And what about our children's future and grandchildren's future? The fact is, we are not that upwardly mobile society anymore. For instance, I just saw a statistic that said only 14 percent of parents are optimistic that their children will have a better life than their own!
If nothing changes soon, we will be heading the way of European socialists' countries. And Europe is not doing well, either. In fact, Greece is in bankruptcy, the world is in turmoil, and there are threats mounting all around us.
So you're left with disappointment, frustration, even hopelessness. And sometimes even a paralyzing fear.
But there is hope. There is an antidote, and that's what this free PDF book is all about.
In fact, this PDF book is packed with information. Just take a look at what you'll learn when you download your complimentary copy of "Your Guide to Creating a Family Economy that SIZZLES:"
You'll discover a stellar recipe for creating a solid business and a dazzling future that you can pass onto as a legacy to your family!
You'll learn an effective way to create cash flow even in a bad economy.
What do successful work at home business people know that you don't? You'll find out!
You'll learn how marketing experts attract their audiences to increase their sales — and you can, too!
You'll discover 15 basic business building steps that will help you launch one family business after another!
You'll learn what the number one key to your successful family economy is.
What are the 7 building blocks to effective brand development? I will be sharing with you my graphic design secrets which will help you get noticed above the crowd.
You'll follow as I lead you through 9 steps to help you build an effective brand, including how to analyze your marketing objectives, how to find a business (and business ideas, even for kids!), how to design a logo using images, photography, typography, and color, how to write a slogan, how to name your business, and more.
You'll discover how to put your logo together and you will learn about the process of creating business cards and web banners.
You can use this over and over again for each family member and each stream of income.
Single? You will also benefit from learning how to create a dazzling future for yourself!
Already in business? Improve the one you're in and add more the SMART way, one in which builds a solid foundation!
You'll find out how to discover your dazzling future NOW, no matter what your circumstances — you won't want to miss it!