Funny how life works! I had it in mind to write stories about founders of famous companies, and then the broo ha ha erupted about Chick-Fil-A!
And as an aside, yes, I support Truett Cathy, Dan Cathy, and Chick-Fil-A. They believe in traditional marriage as do I. In fact, that is all that Dan Cathy, the current CEO, apparently said for a Baptist publication interview which created this firestorm. He did not say he condemned gay marriage, he only said he upheld traditional marriage!
I stood for this company because the attempted censorship and discrimination by city leaders (that's what started the whole thing, Mayor Rahm Emmanuel saying they weren't welcome in Chicago, as well as the mayor of Boston), could happen to me, though of course I am a much smaller concern! Shut down because my beliefs are different than some other folks. My company is founded on biblical principles and Jesus is my CEO! Not everyone will like that, but that's just part and parcel of who I am!
However, just because I disagree with another person's viewpoint does not mean I hate anyone. It means I have a deeply held religious conviction that no one can take away from me! This issue is all about free speech whatever your beliefs are!
I am not the judge, Jesus is. I have to concentrate on overcoming my own struggles. As He said long ago, don't try to take out the speck in someone's eye when you have a log in your own! And I'm convinced if Jesus were here today, he'd be seeking out the hurting, the wounded, the unacceptable to society and loving on them. He would not condemn the heart who truly wants to know Him, but say, "Go and sin no more," just as He said to the adulterer caught in the act. If you look at 1 Corinthians 6:9–11 there is a whole laundry list of behavior that can get us in trouble. I believe we better concentrate on our own struggles. In Jesus, we all can have a fresh start: "You were washed, you were sanctified, you were justified in the name of the Lord Jesus Christ and by the Spirit of our God." (1 Corinthians 6:12 NIV)
So all that to say, on Wednesday, August 1, I attended Chick-Fil-A appreciation day with my family!
As I stood in line, I was reading about the history of Chick-Fil-A and that reminded me about this blog topic! What a way to start!
Truett Cathy opened his first restaurant in 1946. It was called the Dwarf Grill in Hapeville, Georgia. He is credited with creating the first chicken sandwich and started Chick-Fil-A in the 1960s.
The first stores were in malls. In fact, Truett Cathy pioneered the movement to create quick serve restaurants in malls. The business steadily grew and in 1986 after popular demand, the company opened their first stand-alone restaurant.
Today, there are over 1,615 Chick-Fil-A locations and their annual sales in 2011 were over $4.1 billion.
The mission of Chick-Fil-A is to "Be America's Best Quick-Service Restaurant."
After my experience on Wednesday, I can wholeheartedly say that's true, even when they are completely overwhelmed by customers!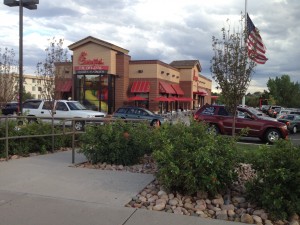 Chick-Fil-A is a model of superb branding. From its logo image of the chicken in the "Chick" part of the identity all the way to how employees serve customers, it is congruent.
Even with the deluge of customers, employees were cheerful and welcoming. The restaurant is a warm place to be and their food holds up to their promises.
And this friendliness of employees even held up under extreme pressure. I heard of a case where a customer purposefully harassed an employee because he was angry with Dan Cathy's statement on marriage. She kept her cool and proved even in that circumstance how superior the Chick-Fil-A brand really is!
What I also love about this company is that it is family owned! To me, the Chick-Fil-A brand is a picture of the possibilities of creating a family economy. I looked at the board of the corporation and it is all family members! In fact, I noticed how involved the family was in the particular franchise we visited. A woman dressed in plain clothes was cleaning tables and helping in various ways, acting like a true hostess. I assume she was the owner's wife.
No matter what you feel about Chick-Fil-A and Dan Cathy's statement on marriage, the experience I had is an example of this: If you create a superior brand you will have a dazzling future!
How can you start on your dazzling future? Learn more today by taking my free course on how to create sizzling brands!
Source: http://www.chick-fil-a.com/Company/Highlights-Fact-Sheets