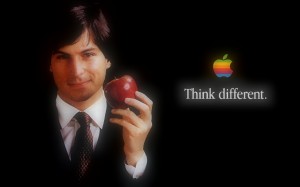 Earlier today, I was shocked to learn that Apple's founder Steve Jobs died. I had talked about him very recently in my Brand Identity Quest webinars. He has had a huge influence on my life!
In fact, I would not have become a graphic designer without him!
When I was a high school student, I was the editor of the entertainment page and had to design it the old fashioned way, with galleys. It was horrible.
But Apple started to make it's way in my life during my senior year and I must confess, at first I scoffed along with the rest of my family. Our school paper got an Apple IIe and started to print the galleys ourselves on a Daisy Wheel printer. I'll tell you, it was awful! But it saved the school a lot of money.
But this experience turned me off graphic design work. I was a writer and wanted to work for a magazine.
Then fast forward a few years later in college as a journalism student. In our production class, the school had just switched to IBM computers with the PageMaker desktop publishing program. I made a brochure on this program and found that I had a natural eye for design.
Then I started a Christian arts anthology. In my spare time, I would go to the computer science lab and work on the Macintosh SE/30s. I found that PageMaker worked faster and easier on a Mac. After two issues of my anthology, I was hooked!
After college, I wanted to learn how to design on a Mac. I turned down jobs that were on PCs. Yes, everyone thought I was crazy!
Then my big break came! An editorial assistant job at The Navigators. This eventually turned into a full-time graphic design job after being mentored by the art director, Mike Hames. This happened because I had the vision to start the anthology in college, which forced me to learn about graphic design and showed off my potential in this area. Mike taught me everything he knew about design. Eventually, he left the organization and I took over many aspects of his job.
After getting married and having a child, I started my business, AngelArts. I managed to find used Macs and have quite a collection of them now, including the forerunner to the iPad, a little tablet called the Apple Newton!
But even though I am a Mac nut, I do not own an iPod, iPhone, or iPad. I do want an iPhone soon, though, and I know an iPad would greatly help my high-functioning autistic son.
Steve Jobs is truly an inspiration. He started this company in his garage and through his vision turned it into one of the largest companies in the US.
His life teaches us that you have got to believe in yourself and work hard to achieve it. Jobs has had a huge impact on the whole world. He has had a huge impact on my life! We are all better off because of this tremendous visionary!
Rest in peace, Steve! My heart goes out to his family and my prayers and thoughts are with them!